Primitive Graven Image
"By all means avoid Celebrating Impending Chaos if you don't like skilfull aggressive metal, massive riffs or songs that actually stay in your head after they have ended.. an almighty collision of styles and influences, all unified by the brooding spirit of black metal"
— Zero Tolerance
"A stunning collection of pure black metal in the style of Immortal or Emperor, this cd is the best I've heard so far this year... if they can produce the goods live there's no reason why they shouldn't join the black metal elite. Stunningly Good!"
"Let some of those riffs sink in for a minute. Let some of those Dissection-like melodic lines waft through the air like they do. This is good shit! Song-wise too, these guys have come a long way since their debut on Open Grave. Their construction is rock solid. The production is, likewise, solid. Big, but not foofy-flouncy-symphonic-big. No, it's just right. Some deft shifts in tone and rhythm, some seriously old school guitar solos, and before you know it, this album is over. Short and sweet. Which just makes me want to play it again"
Primitive Graven Image was formed in 2006 by guitarists and brothers Rob and Luke Lehane aka Ljosalfur and Dokkalfur, out of a love for the traditional black metal style. Immortal, Darkthrone and Emperor were the flavour of the day and a 6 track demo of spontaneous, infectious blackness was swiftly kicked into shape.

Within 2 months, the band were offered a deal and signed to Pennsylvania based Open Grave Records, who released the band's demo to the press as a sign of things to come. Following some excellent reviews, the band's debut album "Traversing The Awesome Night" was released in May 2007 in the midst of the enthusiasm, provoking a good responses from the black metal underground and beyond in the USA, Europe, Australia, and the UK alike, putting the band on the black metal map almost immediately.
A live show of unrelenting fury was swiftly put together. Drummer Matt "Vordhr" Platts, previously of the pre-Akercocke "Salem Orchid" line up, and more recently of Interlock, was soon convinced, and was followed shortly afterwards by Bassist Joshua "Mjolnir" Langford Coxon, who took up the remaining five strings.

Working now as a fully functional four piece, a second album needed to be written. Starting in Winter 2007, in a place that would come to be known as 'The Black Metal Farm', new material was written, recorded, re written, re reordered, scraped, programmed, mixed and remixed until the end of 2008(!) when the material was taken to Parlour studios for Russ Russell (Napalm Death, Dimmu Borgir) to work his magic upon.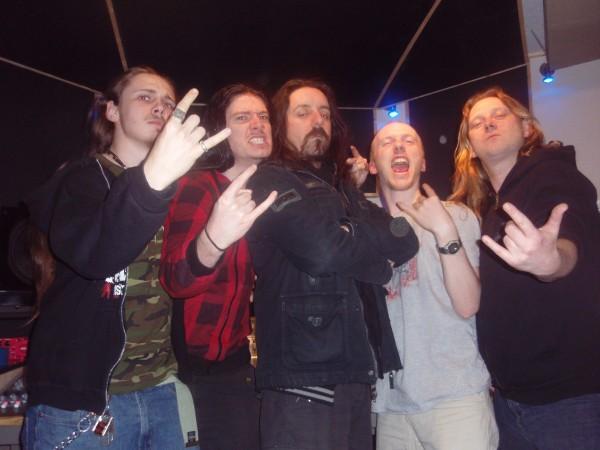 Whilst all this was going on, the new material was debuted at a few gigs around England, plus Winterfest in Cork, Ireland, where Primitive Graven Image shared the stage with the likes of Amon Amarth and Skyclad, and Bloodstock Open Air 2009. Open Grave Records had closed its doors, but the band, instead of seeing this as a bad thing, saw it as a sign of bigger and better opportunities to come.
After negotiating a deal with independent label Voiceprint (who have worked with a number of high profile bands over the years including Porcupine Tree, King Crimson, Yes and many 70's progressive rock acts amongst others), 'Celebrating Impending Chaos' was released worldwide on the Envenomation imprint in April 2010 (May 2010 for North America and Canada). Diverging from the traditional black metal style slightly, the second album featured influences ranging from the epic death metal of Nile to the beautifully misanthropic noise of PGI's fellow countrymen Anaal Nathrakh and The Axis Of Perdition.

The album was critically acclaimed by the metal press in Europe and America, receiving many 8 / 9 out of 10 reviews from major metal magazines as well as underground web zines. Live reviews and interviews followed from the likes of Metal Hammer, Terrorizer and Zero Tolerance as throughout 2010 and 2011 the band gigged up and down the country taking in festival dates such as London's 'Infernal Damnation' (with Alcest, Wodensthrone etc), Manchester's 'Show No Mercia' festival (with Winterfylleth), tours with Abgott and Skaldic Curse, and numerous dates up and down the country.
Towards the end of 2011, the band started to write new material, and hearing that Russ Russell had some free time in February 2012, in the middle of January the band began to write and record their third album, in a mere five weeks. The album is currently waiting mastering and artwork is in progress. The third as-yet-untitled album is due for worldwide release through Envenomation in May/June 2012.