We are seeking bands - click here
Primitive Graven Image - Debut album re-issued in association with UKEM records (Posted 1st August 2013)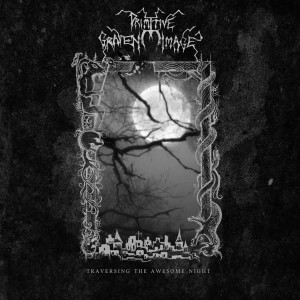 Primitive Graven Image's debut album "Traversing The Awesome Night" has been re-issued in association with UKEM Records. This is a strictly limited release, and features additional material including the band's 2006 demo 'Hellish Figurines' as bonus tracks. The artwork has been improved courtesy of acclaimed designer Christophe Szpajdel - famed for his logo design skills, having designed literally thousands, mainly for extreme metal bands including the likes of Emperor. Available only through UKEM records - http://www.ukemrecords.co.uk/product/primitive-graven-image-traversing-the-awesome-night/
---
Shellshock release new video - (Posted April August 2013)
Check out the new video from Shellshock! Absent is not taken from the band's current release and is a standalone new track... possibly hinting at what is to come on the band's third album!
---
Primitive Graven Image - Third album released 3rd September 2012! (Posted 9th August 2012)
Primitive Graven Image are pleased to finally be able to announce the full details of their third album. Entitled "Psychededlic Episodes - Observations on Death and Deathlessness", the follow up to 2010's "Celebrating Impending Chaos" is once again produced by Russ Russell (Napalm Death, Dimmu Borgir, Evile), with artwork from Darkwave Art, and is another loosely themed concept album - this time based around psychedelic experience of the physical, spiritual and emotional kind.
"We took war as a big theme for Celebrating Impending Chaos (2010), but there was also a more cosmic theme running throughout the album as well, on tracks like "Kings Of Infinite Space" for example - and that's what we've decided to run with this time round. We've decided to look into the mirror instead and into our own psyches. After all, the outside world is surely only a reflection of what is inside? This album is about getting closer to the source of all this stuff, which is where the real horrors lie. It's an interesting and fresh concept to play with but still lends itself very well to twisting into a black metal framework. The concept has lead to our most structured and focussed lyrics to date and the album has become a weird journey through man's struggle with his gods, his mortality and his brief but often chaotic life here on this mysterious rock. Musically we have stuck to the black metal feel that we know and love and in some cases this shines through even more than on our last album.
We've also brought in a very healthy dose of death and thrash metal influenced sections and the psychedelic and progressive elements we started to play with on Chaos have made a big return. We have included some truly experimental moments with some elongated prog-out sections and wonderful analog keyboard sounds."
The first offering from the album is new digital only single "Slave To The Mannequin" - which is accompanied by a music video and is available as a free download from the band's web site at www.primitivegravenimage.com.
Check out the video on the band's official youtube channel at www.youtube.com/primitivegravenimage
The full track listing is as follows:
1. Eye Of Existence
2. Ten Thousand Armageddons
3. Mock The Lifeline
4. Slave To The Mannequin
5. Attack The Attacker
6. Breathe
7. The Maniacal Laughter Of A Dying Man
8. The Killer, The Philosopher and the Holy Man
9. Of Death And Deathlessness
Shellshock set release long awaited second album through Envenomation (Posted 14th March 2012)
Drum and Bass Metal band Shellshock are set to release their long awaited second album through Envenomation in May 2012, hot on the heels of a download only single "The Maze" which will be released on April 4th.
Shellshock's debut 'The Laws Of Rebellion' was released in 2007 through the band's own label ETI Records. Over the last 10 years the band have incessantly toured the UK and gained a strong and loyal fanbase through this, a number of video singles including 2005's 'Kev', and a remix album in 2006 comprising of no less than 35 remixes covering just about every genre of electronic music imaginable. In addition, the band signed with Grindhouse Records in Japan, resulting in their debut album reaching No.2 in the Japanese national metal charts.
The band's second album - titled 'Born From Decline' - pushes their sound to a new level. Drum and bass grooves have blended with blistering guitar riffs and produced to perfection by Justing Hill (Weller Hill productions) - previously of UK band Sikth.
The album will still be released on the bands own label, but licenced exclusively to Envenomation for all territories.
More news and release date to be published shortly.
---
Primitive Graven Image complete work on third album with Russ Russell (Posted 29th Feb 2012)
Primitive Graven Image have completed work on their third album, once again with producer Russ Russell.
The band have commented on the album sessions: "Following the now tried and tested formula that we used on 2010's 'Celebrating Impending Chaos' once again we've recorded the instruments ourselves at Metal Farm Studios in Buckinghamshire, where we've had the benefit of being able to take our time over the last two months, and then taken the finished recordings to Parlour Sound for Russ to do all the mixing and get the best out of our sound. Having been through the process before we knew what to expect this time, we were better prepared and are extremely pleased with the results. This time we've got the guitars sounding much bigger, the overall mix is far more cohesive yet not over-produced. We're really pleased that we've taken a step up again, and that we've not augmented the natural sound with much in the way of extras - although the sound is big we've not relied on studio trickery or orchestration - it's nice and organic sounding and brutal as hell, which is exactly what we wanted."
"Musically our black metal influence is ever present, but again we've explored a few of our other influences - there are some very death metal influenced sections and our love of older '70s progressive music is very much present again with a few more explorations in Moog Synthesisers that began to creep in on our last album. There are also a few longer more progressive sections in place of the 4 minute tracks that a lot of '..Chaos' comprised of. We're now getting the artwork together and are looking forward to taking this out on the road later in the year. We also have a home town show at the Elgiva Theatre in Chesham on March 24th and we've invited new band Voices (who include Akercocke members David Gray and Pete Benjamin) along for a black metal double bill with a number of local supports and DJ's, so the first airing of at least a couple of new tracks will be happening there."
You can view the progress of the recording over the last couple of months on the band's Youtube channel at http://www.youtube.com/primitivegravenimage, where snippets of the new tracks can be heard from both the recording and mixing sessions.
The new as yet untitled album is set to be released through Voiceprint Record's "Envenomation" imprint before the Summer.
http://www.envenomationrecords.com
http://www.primitivegravenimage.com
http://www.facebook.com/primitivegravenimage
---
Empyreal Destroyer members form 'Esurient', due to enter studio in 2012 (Posted October 2011)
Two members of Empyreal Destroyer will be recording under the watchful eye of Xerath at the labels own Metal Farm studios in Buckinghamshire in April and May. Originally written for Empyreal Destroyer the band have taking onboard some new influences and added a more progressive feel and some complex drum rhythms, touching on the Meshuggah style. Feeling that the the songs needed their own identity, Esurient was born and the demos we have heard are mindblowing. After being given the production that they deserve courtesy of Xerath, who produced their own debut album for Candlelight records a couple of years ago, they will be seeing a release through us after the Summer. Stay tuned for more details!
---
Primitive Graven Image release March Of The Cattle as free download single + accompanying video (Posted 20th June 2012)
Check out the new mini-site for Celebrating Impending Chaos here, which contains amongst other things a free mp3 download of 'March Of The Cattle' together with artwork, and the first video from the album.


---
Primitive Graven Image - Final 2010 "Touring Impending Chaos" dates (Posted October 2010)
October 23rd - Terrorizer Grindhouse Birmingham Hallowe'en party with Abgott & Ethereal
October 30th - Deathworks II @ Gas Works, Bradford - with Abgott, De Profundis, Onsetcold, Ethereal, Teutoburg Forest and more - all day hallowe'en event!
November 2nd - The Gaff, London - with Eibon La Furies, Phyrexia and Reaping Havoc
December 19th - Satans Hollow, Manchester - with Winterfylleth, Wodensthrone, Cnoc An Tursa and more tbc.
Click on the flyers below for full details:
Enblackened - A great result for UK blackened metal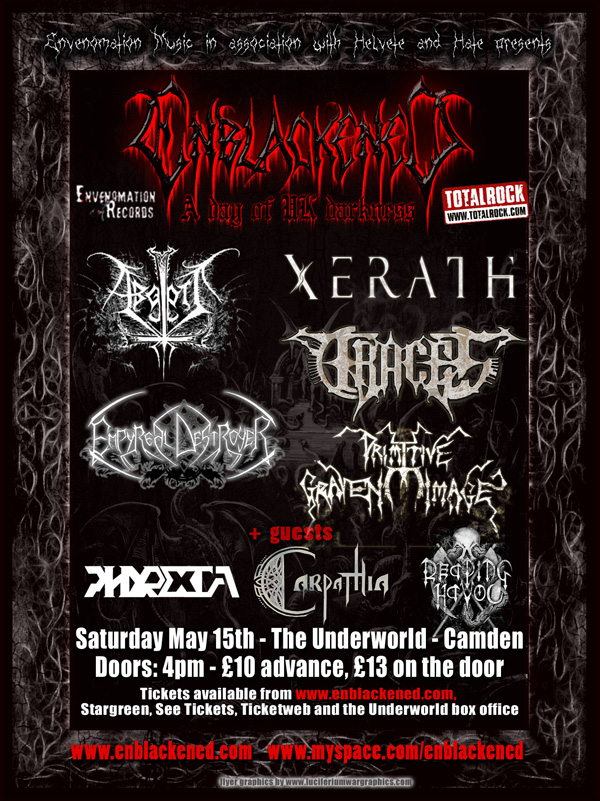 Envenomation Music's debut live outing Enblackened was a huge success this weekend. Taking place at the Camden Underworld, 8 bands played stunning sets over the course of just over 6 hours. Abgott, Xerath, Primitive Graven Image, Traces, Empyreal Destroyer, Carpathia, Phyrexia and Reaping Havoc pulled together to help create this one off legandary event - a black metal festival in the UK featuring just UK bands. New wave of British Black Metal anyone? We look forward greatly to further events in the near future.
---
Online ordering is now live / first reviews coming in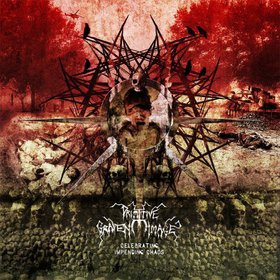 You can now order the new Primitive Graven Image album straight through this site and pay by paypal - Click here to order. You can also get Enblackened tickets through the separate web site at http://www.enblackened.com.
Initial press feedback is looking very positive! You'll have to go out and buy a copy of the current Zero Tolerance (which includes a track on the cover CD + a small interview with the band as well as a review) or Terrorizer (which includes a cover CD track again + brief write up in the CD description) to read the whole lot, but check the ordering page for a small preview of what's being said so far!
---
Primitive Graven Image - second album release April 6th (May 4th USA/Canada)
We can finally confirm the release dates for Primitive Graven Images sophomore release 'Celebtrating Impending Chaos'. UK/Europe will see a release on April 6th, with the USA/Canada release a month later on May 4th. Distribution will be through Cargo Germany for Europe, Plastic Head for the UK, E1 Entertainment for North America and Canada, Disk Union for Japan.
---
Empyreal Destroyer and Primitive Graven Image play Enblackened 2010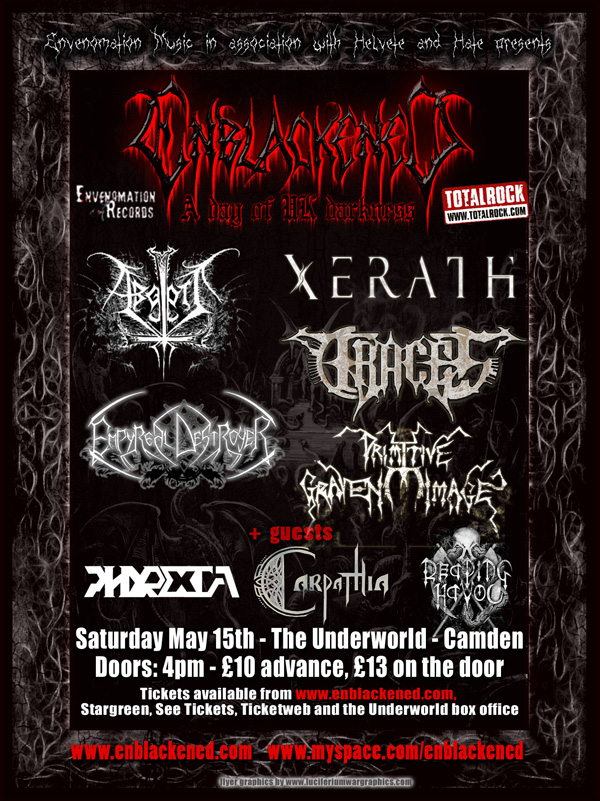 Empyreal Destroyer and Primitive Graven Image have been added to the Enblackened 2010 bill - an all day black metal event at the Camden Underworld on Saturday May 15th. The bands will be supporting Abgott and Xerath alongside guests Phyrexia, Carpathia and Reaping Havoc.

This event kicks off what we intend to be an annual event showcasing the best black metal talent in the UK from both known and lesser known black metal and blackened death metal bands.

Jagermeister will be sponsoring the event along with other sponsors that we hope to be confirming very shortly.

Online ordering will be available through this web site shortly.


---
New Album Release Dates
After a few delays the tentative release date for Primitive Graven Image's 'Celebrating Impending Chaos' is March 8th. This will be confirmed in a few days time. Empyreal Destroyer's debut is now due in May - the exact date is to be confirmed.
---
PGI 'Not to be missed at Bloodstock' - Terrorizer (Posted August 2009)
Primitive Graven Image have been recommended by none other than the mighty Terrorizer as a band 'not to be missed' at this years Bloodstock festival - so there you go! Make sure you're down at the front of the second stage on Sunday afternoon for a band NOT TO BE MISSED!
---
Primitive Graven Image @ Bloodstock Open Air (Posted July 2009)
Primitive Graven Image have lined up a stunning one off live date at the UKs biggest and best metal festival Bloodstock! They'll be playing at 3PM on the second stage on Sunday August 16th previewing at least three songs from the upcoming album along with tracks from 2007's Traversing The Awesome Night. Get down the front early and you might just be able to pick up an advance copy of a few tracks from the forthcoming album!
---
Empyreal Destroyers debut album due Oct/Nov 2009 (Posted July 2009)
The labels second release will be Empyreal Destroyers long awaited and much anticipated debut album 'Daemonik'. An album originally scheduled for release in 2007 it never saw the light of day as the original line up split up. The bands debut album was self recorded by the original line up including notable guitarist Shadow Venger. Originally shelved it has been brought back from the dead for release through Envenomation Records. We can also confirm that a second Empyreal Destroyer album is due hot on its heels very soon. Watch this space!
---
PGI album exclusive! Terrorizer cover cd track + magazine feature
'A gruesome relic of death and decay' shall be the first track released from the forthcoming Primitive Graven Image album, available only on the cover CD of Terrorizer's black metal special - coming out in August 2009 - don't miss this as with features on black metal through the last two decades it promises to be quite a read.
At the same time there'll be a feature on the band in the main Terrorizer magazine which comes out on the same day.
---
Primitive Graven Image second album due October 2009 (Posted July 2009)
Envenomations first release will be the second album from UK black metal band Primitive Graven Image. The band's debut 'Traversing The Awesome Night' was released by US based Open Grave records in 2007. 2009 will see the follow up release, this time written and recorded by a full band, with a full on production courtesy of Russ Russel (Napalm Death / Dimmu Borgir) and excellent artwork courtesy of Darkwave Art (My Dying Bride, Peaceville Records etc).