Envenomation was formed by Matt Platts in 2009 as a subsidiary of Voiceprint Records to promote cutting edge extreme metal music, and is run in collaboration with Voiceprint and the bands.
Our mission is to release high quality product by original metal/alternative bands, we have worldwide distribution into shops as well as internet, and we are also able to assist in promotion, production and other areas.
The management team has many years of experience in the music industry from putting on large events (such as Canterbury Fayre 2002/2003 with bands including the likes of Page And Plant, Hawkwind and many others) and smaller festivals such as 2010's Enblackened at the Camden Underworld, Chesham's 'Buxfest' showcase and Ultimate Solution band nights bac in the early '00s - to experience working for other labels (including Delerium who put out Porcupine Tree's first five albums) - and have further experience in areas from distribution to online marketing and music retail.
Together we have come up with a unique business model which genuinely rewards our artists. We are a truly independent label who are not funded by any other means than ourselves, but with the experience to make a genuine impression.
Worldwide distribution is provided by the companies below amongst others:





We are actively seeking bands to work with on all levels, anyone seeking a label/distribution or recording/rehearsal space in west london is welcome to get in touch with us - details on the contact page
---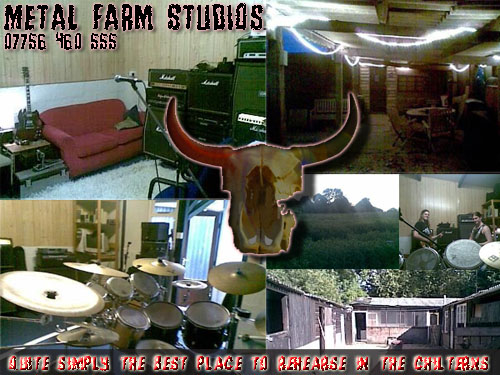 We also run 'The Metal Farm' studios near Gerrards Cross / Uxbridge / Slough in Buckinghamshire, UK - a unique rehearsal studio set in the stunning surroundings of Colne Valley National Park, with a client list including Shellshock, Primitive Graven Image, Empyreal Destroyer, Divine Chaos, Phyrexia and many more - Go To Studio Page